Market continues to cool with buyers' markets remaining in Auckland and Wellington.
Property seekers around the country had significantly more choice in May than they did a year ago, according to the latest data from realestate.co.nz.
Vanessa Williams, spokesperson for realestate.co.nz, says that with national stock at levels not seen this high since 2019, people are asking whether the demand for property will wane enough for us to see property prices reduce.
"Without a crystal ball, we can only look at what has happened in the past, and if we look back at 2019, average asking prices continued to increase despite stock fluctuations," says Vanessa.
Month-on-month, average asking prices have been declining nationally since February 2022, but Vanessa says that property is still in high demand:
"We may not see the dramatic price drops that some have speculated. Immigration into New Zealand is currently at an all-time high. It has been reported that by the end of 2022, more new residents will enter the country than any other year on record. This will likely mean that demand will rise."
Vanessa adds that new residents often bring capital to buy homes.
During May, the highest number of overseas users to realestate.co.nz were from Australia, England, and the USA.
"There are many factors impacting the property market right now – from rapid inflation and interest rate hikes to housing intensification on the horizon thanks to the RMA amendment act," says Vanessa.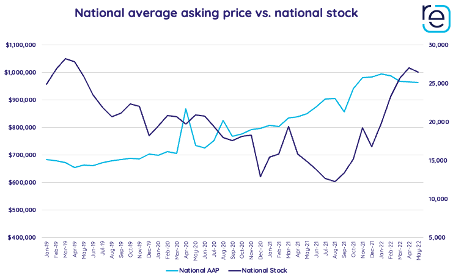 11,552 more homes available for sale nationally than in May last year
Property seekers are more likely to find their dream home this winter, with stock up by 77.6% year-on-year nationally. In Wellington, which remained in a buyers' market for the third consecutive month, stock levels almost tripled during May 2022 compared to May 2021 (up 187.9%).
Year-on-year stock levels also rose significantly in Central North Island (up 168.2%), Hawke's Bay (up 148.3%), Wairarapa (up 147.9%), and Bay of Plenty (up 147.7%).
Vanessa says these stock increases will have impacted demand in some regions and taken some of the heat out of the market.
"Seasonal factors can explain part of this with many vendors battening down the hatches in winter, but it could also signal that the increasing stock levels we have seen during 2022 aren't here to stay," says Vanessa.
15-year record high average asking prices in Canterbury and Central Otago/Lakes District
Compared to 2021, average asking prices were up nationally and in all realestate.co.nz's 19 regions last month. The South Island came out on top during May with record average asking prices of $738,241 in Canterbury (up 28.8% year-on-year) and $1,456,348 in the Central Otago/Lakes district (up 27.7% year-on-year).
Month-on-month however, prices declined in 11 regions and by more than 5% in four regions – Waikato (-15.5% to $850,381), Gisborne (-9.2% to $669,979), Hawke's Bay (-5.9% to $842,245), and Southland (-5.8% to $496,612). Nationally and in Wellington, West Coast and Manawatu/Whanganui, average asking prices remained stable.
Vanessa says that the decrease in the Waikato region last month is likely a correction of April's price surge when the region's average asking price breached $1 million.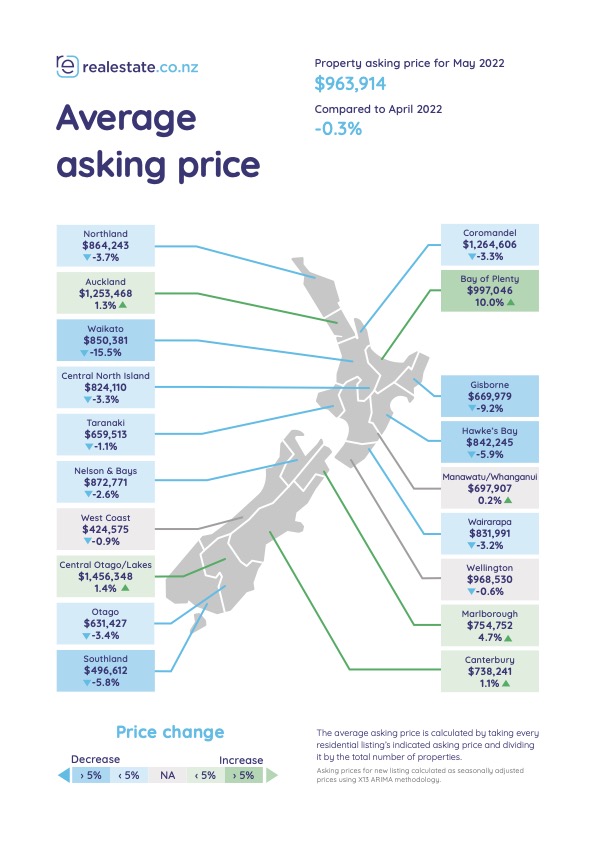 Auckland and Wellington remain in buyers' markets. Other regions show signs of tipping.
These major centre markets have favoured buyers for several months, driven by increases in stock levels and the slowing in the rate of sale. The rate of turnover determines a buyers' market. You can read more about how realestate.co.nz measures market sentiment on our blog.
For the second month in a row, Hawke's Bay, Otago, and Manawatu/Whanganui continued to show signs of tipping into a buyers' market in May.
"Wellington has been in a strong buyers' market for three months now, which we can count as a trend, so it will be interesting to see whether these regions eventually follow," says Vanessa.
In addition, the gap between the current rate of sale and the long-term average also started to close nationally in May.
Vanessa says this could signal a national buyers' market on the horizon.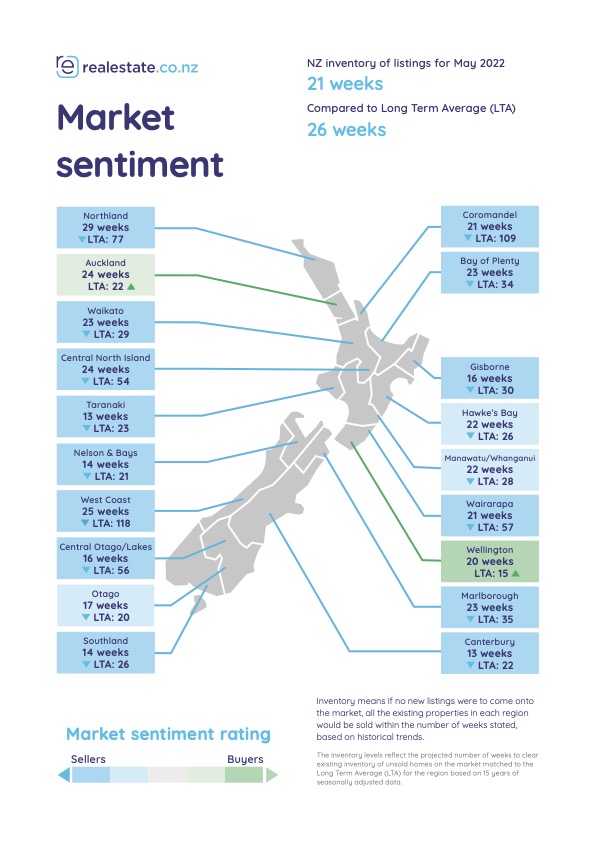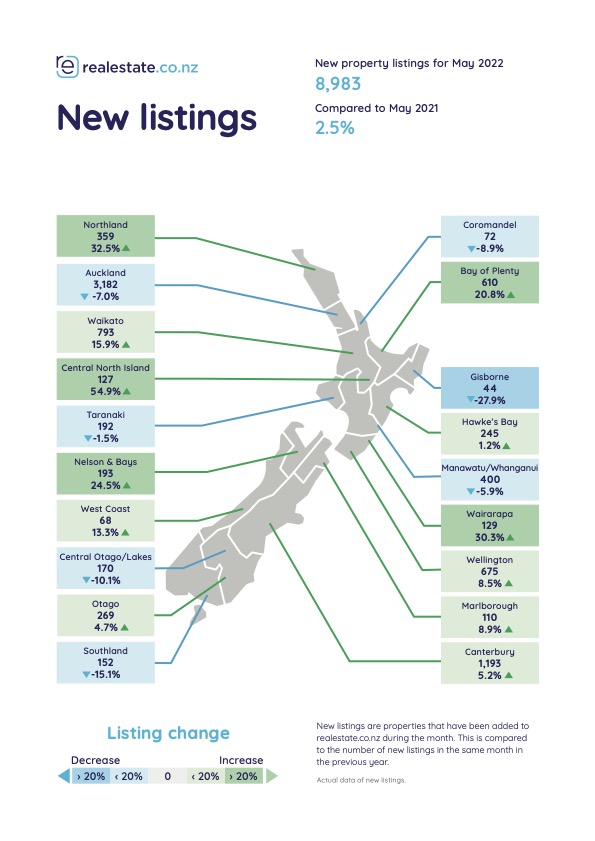 For media enquiries, please contact:
Ashley Harder | 021 712 210 | ashley@realestate.co.nz
About realestate.co.nz
As the longest-standing provider of real estate data in real-time, realestate.co.nz offers valuable property market information not available from other sources to make it easier for New Zealanders to buy and sell property. With residential, lifestyle, rural and commercial property listings available, realestate.co.nz is the place where serious buyers look for property.
Glossary of terms:
Average asking price (AAP) is neither a valuation nor the sale price. It is an indication of current market sentiment. Statistically, asking prices tend to correlate closely with the sales prices recorded in future months when those properties are sold. As it looks at different data, average asking prices may differ from recorded sales data released at the same time.
New listings are a record of all the new residential dwellings listed for sale on realestate.co.nz for the relevant calendar month. As the site reflects 97% of all properties listed through licensed real estate agents in New Zealand, this gives a representative view of the New Zealand property market.
Stock is the total number of residential dwellings that are for sale on realestate.co.nz on the penultimate day of the month.
Inventory is a measure of how long it would take, theoretically, to sell the current stock at current average rates of sale if no new properties were to be listed for sale. It provides a measure of the rate of turnover in the market.
Seasonal adjustment is a method realestate.co.nz uses to better represent the core underlying trend of the property market in New Zealand. This is done using methodology from the New Zealand Institute of Economic Research.
Truncated mean is the method realestate.co.nz uses to supply statistically relevant asking prices. The top and bottom 10% of listings in each area are removed before the average is calculated, to prevent exceptional listings from providing false impressions.