New data from realestate.co.nz shows that while new listings were down, more Kiwis searched for property last month than they did a year ago.
The number of people searching for property on realestate.co.nz was up 8.6% compared to the same time in 2022*. But with the number of new listings coming onto the site down by 21.2% nationally, those looking for their perfect property had significantly less to choose from.

"Just over 6,000 properties were listed last month – almost 2,000 less than in June 2022. Yet, we still had more people searching for property than in June last year."

"You should always buy and sell based on your circumstances. But if I were planning to sell in 2023, I'd seriously consider listing now while competition between vendors is low," says Vanessa Williams, spokesperson for realestate.co.nz.

Total stock levels were also down year-on-year by 6.1% nationally in June, further confirming the lack of choice for buyers in the market. But it's not just less competition that makes current conditions ripe for transacting property.

"There might be a little more certainty coming for buyers and sellers. The Reserve Bank of New Zealand has signalled we could be at the end of its recent interest rate hikes. While, nationally, average asking prices have been stable for the past few months, perhaps giving both sides more confidence on what to expect," says Vanessa.
Lowest June on record for new listings nationally and in 12 regions
Nationally, and in Auckland, Waikato, Bay of Plenty, Gisborne, Hawke's Bay, Wellington, Southland, Coromandel, Central Otago/Lakes District, Wairarapa, Central North Island, and Manawatu/Whanganui, new listings were at record lows for any June since 2007.

Year-on-year, listings were down by more than 20% in the national market and in 12 of our 19 regions.

Vanessa says Kiwis remained hesitant to list their properties last month – potentially because of economic factors:

"We know that Kiwis are feeling the effect of inflation and rising interest rates in their pockets right now, and I think some property owners are watching to see what happens next. We may see this pent-up supply hitting the market later in the year."
She adds that, despite some sellers holding off, people still buy and sell property regardless of what is happening in the world.
"There is still activity in the market," says Vanessa.

Northland was the only region where new listing numbers increased year-on-year. Up 19.0% compared to June 2022, 300 properties came onto the market in the region last month.
National average asking price stable. Auckland and Canterbury show signs of flattening

The national average asking price, which has sat relatively flat since March 2023, remained stable during June with a marginal decrease of 0.9% compared to May. Auckland and Canterbury also showed signs of stabilising.

Vanessa suggests this could be a sign of things to come:

"Typically, trends start in our main centres before they emerge in other regions. We are seeing some price fluctuation around the motu, but this national flattening combined with early signs in Auckland and Canterbury could mean more of this on the way."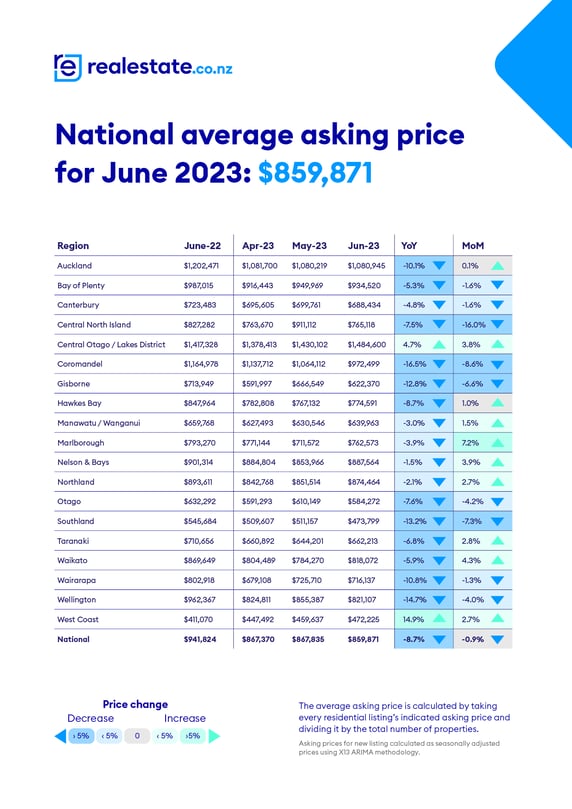 An economic microclimate for trend-bucking Central Otago/Lakes District?

Continuing to buck the falling average asking price trend, Central Otago/Lakes District hit an all-time record high of $1,484,600 in June. The region has seen prices trending upwards since the beginning of 2022, in direct contrast to the national average asking price, which has fallen by $129,812.

Vanessa says the tourism mecca seems to be less impacted by the economic factors affecting other regions in New Zealand:

"The Central Otago/Lakes District is almost in its own economic micro-climate. Demand is still high for property in this region, and it would seem that buyers are not as impacted by rising interest rates and rising household inflation."

"Plus, many people buying in this region are from overseas, where they potentially have higher incomes and favourable exchange rates."

She adds that most people searching for property in the region were located further afield. The largest number of people searching in Central Otago/Lakes District in June 2023 were in Auckland, followed by Canterbury and New South Wales. Other Australian states, Queensland, Victoria and Western Australia were also among the top ten locations for searchers.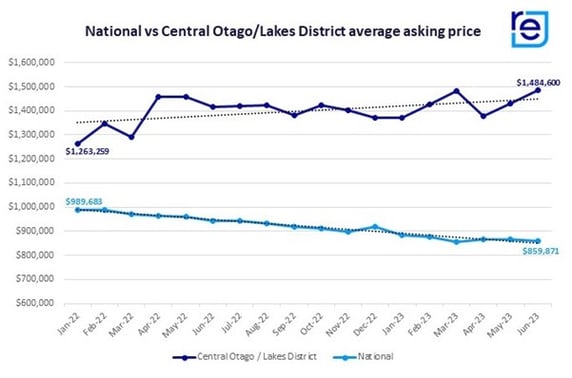 Only two buyers' markets remaining

Just two regions, Auckland and Taranaki, were in buyers' markets during June – a change from the seven regions favouring buyers at the close of 2022.

Vanessa says that while Auckland has been in a buyers' market for several months, it appears to be weakening.

"If no new properties were to come onto the market, the number of weeks it would take to sell the current supply in Auckland is moving closer to the long-term average. This tells us that property is moving slightly faster in Auckland than it was at the beginning of the year."

Nathan Miglani, Managing Director for NZ Mortgages, says they, too, are seeing an increase in market activity:

"We may be in a 'technical recession', but we're seeing a warming of the real estate market. News of a decline in inflation is giving buyers confidence, and momentum is building with increasing activity."

"One day earlier this week, four clients competed at auctions. One missed out, but three were successful – and every one of those auctions had multiple bidders."

Vanessa has also heard that successful auction sales are rising from the real estate industry.
*Source: Internal metrics (1 June - 29 June 2022 vs 1 June - 29 June 2023)
For media enquiries, please contact:
Hannah Franklin | hannah@realestate.co.nz
Want more property insights?
Market Insights: Search by suburb to see median sale prices, popular property types and trends over time.

Sold properties:

Switch your search to sold to see the last 12 months of sales and prices.
Valuations: Get a gauge on property prices by browsing sold residential properties, with latest sale prices and an estimated value in the current market.
Find a glossary of terms here.